I remember as a child one of my favourite chocolate bars was the white chocolate Smarties bar, back in the day it wasn't branded as Milkybar but just a Nestl

é white chocolate bar with Smarties dotted throughout, it looked something like this :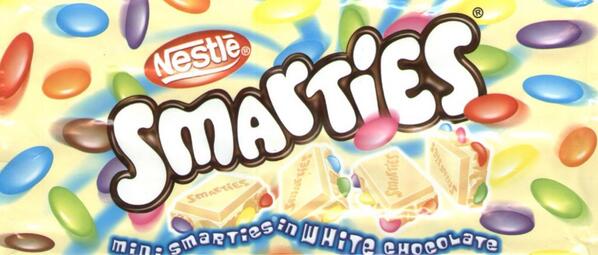 I remember frequently picking one up from the local newsagents and was devastated when I turned up one day to find it was no longer there and the bar seemingly disappeared from the U.K market (I believe it was still available in South Africa). I'm guessing it's been around 15 years since then and eventually it's made a reappearance on the U.K market in the form of Milkybar with Smarties, in a large "sharing" block, to say I was delighted was a bit of an understatement.




I tried for a number of weeks to hunt it down, I'd heard it was only being stocked in Morrison's so off I headed there, to find that there was none left in the chocolate aisle! Thankfully the bar had been double sited and I managed to find some more elsewhere in the store.




The bar weighs in at 100g and you can visibly see the multi-coloured Smarties dotted throughout the bar. It's difficult to tell as obviously it's been years since I ate the original white chocolate Smarties bar but I definitely think that the chocolate tasted creamier than previously and has that classic creamy, sweet, slightly chalky, Milkybar taste.




The Smarties add a lovely crunch to the bar and stop the bar from getting too sickly, making it incredibly moreish to nibble away at. Safe to say I enjoyed it just as much as I remembered and am hoping that it will pop up in other supermarkets soon so I don't repeatedly have to keep venturing to Morrison's to buy it.

Taste - 8.3/10 - Everything I remembered and more, creamy white chocolate and slight hint of milk chocolate from Smarties.
Texture - 8.6/10 - Smooth, slightly chalky Milkybar with crunchy Smarties.
Appearance - 8.5/10 - Really colourful looking, lots of visible Smarties
Price - 8.3/10 - At only £1.00 it's not going to break the bank.
Overall - 8.4/10 - So pleased this bar is now available again.
________________________________________________________________________________
WHO FOR?
Well firstly anyone that was a fan of the original bar or anyone that is looking for a new, fun twist on classic Milkybar.

WHERE TO BUY?
Morrison's is the only place I've seen this stocked so far.